1st half
Spain decided to rest their first team in the game against Tahiti. Of course that meant that while Xavi, Iniesta and co opted to watch the game from the sidelines, players like Champions League winner Javi Martinez and Spain's all time scorer David Villa were playing. Quite a second team, huh?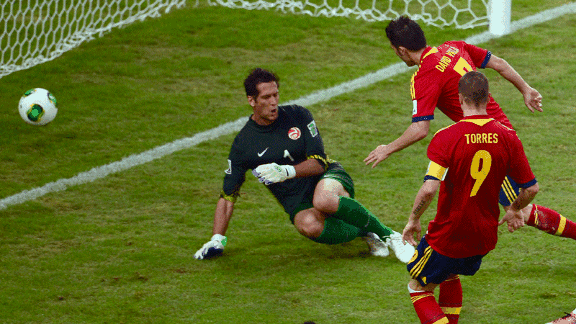 The first half proved to be more difficult than thought. Fernando Torres did score Spain's first goal on the 5th minute, but after that Tahiti really put up a fight and it worked... for half an hour. Then Spain's scoring reaaally began. But before that I think that especially the defense and goalkeeper Roche of Tahiti were excellent. But then they got tired or I don't know what happened and by the time the first 45 minutes were over Spain was leading 4-0.
32' David Villa crossed the ball to David Silva: 2-0
33' Torres 3-0
39' David Silva crossed to David Villa: 4-0
2nd half
On the second half Spain really got it going and there was nothing Tahiti could do.
49' Nacho Monreal crosses to Villa: 5-0
57' From Jesus Navas' pass to Torres: 6-0 and a hat trick for Nando
64' Villa: 7-0 and it's a hat trick for David Villa
66' Juan Mata: 8-0
79' Torres: 9-0
89': Silva: 10-0
On the first half Tahiti played well, really well considering that they're complete amateurs. But Spain was and is just too good. Even without the biggest stars they have a team that could definitely challenge any team in the world.
Torres scored 4 goals, Villa 3, Silva 2 and Mata 1. And even as a fan of Spain it was difficult to watch Tahiti's despair. It was an especially hard night for the goalkeeper, even though Tahiti's loss was no more his fault than it was any other player's. It kind of felt like a bunch of 15-year-olds throwing tomatoes at a 10-year-old, it just wasn't fair and it's hard to believe that even though Tahiti of course saw it coming it still wouldn't feel freaking awful. Well..at least Spain has a pretty nice goal difference of 12-1.