1st half
The first half of Spain vs Uruguay showed an excellent Spain and a slightly desperate looking Uruguay. Spain, as always, was great and the team kept the ball almost 80 % of the time.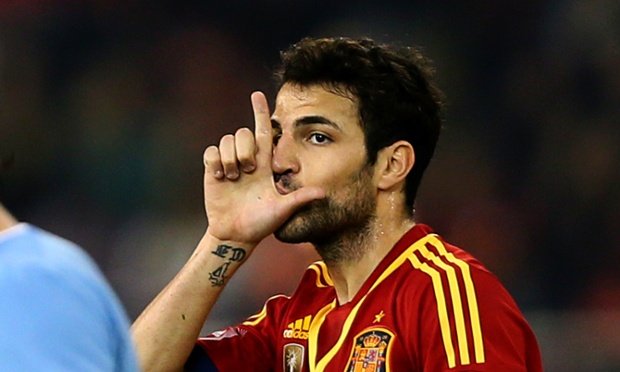 On the 20th minute after several close calls Pedro scored Spain's first goal. 15 minutes later Roberto Soldado scored a second goal for La Rojas. Uruguay was completely lost and of course it is difficult to score when you never touch the ball, but even when they did they weren't able to do anything with it. And what did they do to cover up the lack of talent in the team? Dived, whined and tackled the Spaniards. Especially Maxi Pereira and Diego Perez were incredibly violent, though apparently not violent enough since referee Yuichi Nishimura didn't bother to book either one.
Uruguay's gift to the world Luis Suarez was as wonderful and gentleman-like as always. Maybe just a bit tired? Or why else would he lay on the ground ALL THE TIME..? He also seemed to be in excruciating pain most of the time. Although funny enough nobody barely ever touched him.
Edinson Cavani who has pretty much every team in Europe in a bidding race to have him in their team was also there. Or at least that's what I heard, I can't be sure since I didn't even notice his existence. You know since he didn't do anything there. But yes please do pay €50 million for him. That's money well spent.
2nd half
Second half continued in the same way as the first half. Spain kept the ball and was very close to scoring a third goal, Uruguay cried a river or two. So naturally it was hard to believe that the latter was the one that scored 2nd half's only goal. And as a person that hates Luis Suarez even more than the nation of England(if that's even possible) I still have to give some credit for that goal. 'Cause it was a fine goal. I was so surprised that he had time to actually touch the ball from all the whining...
As a huge fan of the Spanish team I may be biased, but I'm sure that everyone else can agree with me when I say that the result was deceiving, because it makes it seem like it was a close match which it wasn't. At all.
Andres Iniesta said after the game
"I think it was clear Spain was the undeniable winner, a deserved victory," Iniesta said. "It left a very good taste in our mouth. But we probably deserved another goal." And I agree with him. Andres knows best!
Roberto Soldado played a very good game and I hope that he'll be playing in future games as well. The man scored Spain's second goal and was very close to scoring a few more.
Sergio Ramos, Alvaro Arbeloa and Jordi Alba played a little too dirty for my taste. I hate when then opposite team dives and tackles, but I think it's equally as repulsive when your team behaves that way.
I can't find anyone great from Uruguay, but I guess goalkeeper Fernando Muslera was pretty okay. Also substitute Diego Forlan played a better game than Cavani and Suarez though the duo didn't really make that a mission impossible.
Most importantly Spain was great and I think that after the first game they have every chance of winning their first Confederations
Cup. Thumbs up!